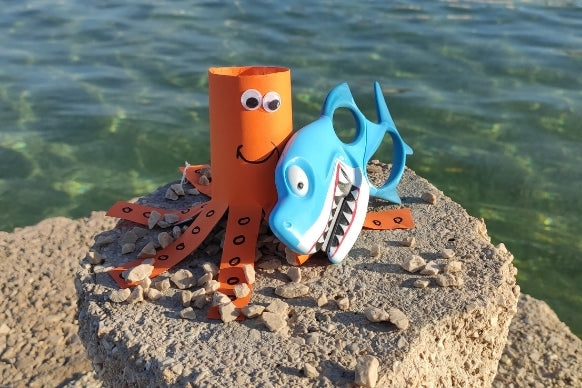 Simon and his family are abroad on vacation in a small Croatian town in heart of Dalmatia, called Rogoznica. Each year they spend their summer there because the sea is crystal clear and people are friendly. 
Simon was bored while his mum and dad were resting. He decided the best way to fight boredom is to make friends with someone. He started looking on the beach for a friendly face and their eyes met...it was friendship at first sight. Her name - Octopus Orange.
Orange and Simon played all day on the beach and for both of them, it was the best day ever :) 
How to make an octopus out of toilet paper roll
List of things necessary for the project:
toilet paper roll
coloured paper
googly eyes
scissors
glue
black marker
Measuring
First you will take your coloured paper and put the roll onto it. Then you will measure how much paper is needed to cover the toilet paper roll.
Cutting the paper
Fold the paper where you've measured to get a straight line. It will be your guiding line for cutting the paper. Then cut the peace of paper needed for the project. Always provide your kids with a safety scissors for kids, you want to avoid all possible injuries ( you can buy the safest kids' scissors here).
Gluing the paper
Take the glue and apply it along the toilet paper roll. Then, press the peace of paper you've previously measured onto the roll. 
Making the limbs 
Take the googly eyes and press them on one end of the roll. Then take the scissors and cut 8 strips of the same width into the roll. 
Finally, take the black marker and draw the tentacles and a smile on your octopus. And voila, your octopus is ready for the sea or play, or play by the sea 😉
If you find this post interesting, educational and fun, you are more than welcome to subscribe to our newsletter down below so we can keep you posted whenever a new post comes out or a new printable is available.
---