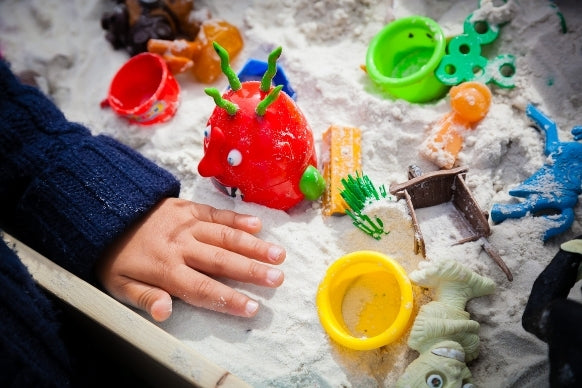 6 minute read
What is sensory play? 
A play that activates and stimulates a child's senses like touch, sight and hearing is a sensory play.
In our last post (click here) we've learned that there are seven senses that we use in sensory integration. Babies and toddlers learn about the world and make sense of the new things they experience each day through these senses. As they grow they start to play. Through that play they learn so much about the world around them.
What sensory play actually does? 
The first 3 years of life are a time of rapid growth and development for a child. Sensory play is active play that helps to create connections in the brain that allow for increasingly complex thoughts and tasks. It helps children develop mindfulness skills, and can also be excellent for helping to calm a child who may be feeling anxious or angry. It builds observational skills and abstract thinking. It also encourages experimentation.
Sensory play ideas and activities 
Sensory play is most of the times quite simple to set up. Though thinking of ideas to help your child engage in sensory activities can sometimes be exhausting. To help you, we came up with suggestions for simple sensory play that your children will love!
Make a sensory bin
Fill a box or container with objects from nature such as leaves, pebbles, grass and sand that have different textures for your little one to explore. You can also use foods, like different kinds of pasta, rice, or beans. Encourage them to use spoons and scoops in order to discover small toys that they've previously buried in them.
Caution!!! Kids often explore with their mouths. Make sure to clean all items and supervise play at all times to avoid choking hazards.
Let them play with food
Squishing, smearing, and tasting as they go — gives them a sensory experience that helps them learn. It's a safe way to taste, smell and explore texture through play. And yes, it will get messy. Don't say we didn't prepare you for that one 😊. You can talk about table manners as they get older.
Sound tubes
Sound tubes will help your children connect with the auditory world around them. You can use a few empty paper towel rolls filled with different materials (uncooked rice, beads, dried beans). Safely secure the ends of the tubes. Hearing the different noises will delight your little one.
Play dough
Play dough's soft and squishy texture ensures that your child will enjoy hours of rolling, slicing, and chopping as they play. You can even make your own dough if you prefer. There are tons of recipes on the internet on how to make it.
Balance practice
This one is really easy. Simply tape lines onto the floor and challenge your child to walk the line.
Playing in sand
Consider investing in a sandbox and a few good sand toys. It is a great fun for little ones and it will help them get a feel for the world. Get them playing in the sand with cups and small shovels.
Swings
Try to use swings in new ways. Pull their feet and then release (instead of pushing them). Twist the swing in one direction and then allow it to spin back in the other direction.
Planting
Digging in the dirt, sorting seeds, watering, and smelling the flowers or herbs you plant will all stimulate the senses. It doesn't need to be big — you can plant small seeds into the cups of an egg carton.
Making bread
Baking bread offers unique sensory activities as children get the chance to knead the bread before it bakes. The process will be longer, but still let your child measure, pour and stir the ingredients.
Frozen toys
To create a frozen toy activity simply freeze some miniature toys (like action figures) into ice and then let your baby manipulate the ice with their hands until the objects are free. A great way to teach a child about hot and cold.
Guessing game
Don't let the child see the object you are holding. Use it to make a sound like clicking, pushing buttons on a toy, bouncing a ball. Then ask your child to guess the object making the noise.
You can use the sense of smell in the similar way. Let them smell but don't let them see what you are holding. Then ask them to guess familiar scents like coffee, flowers, onion or fruit.
As you can see, sensory play activities can be fun, interesting and inexpensive. Most of the things needed, you already have on hand. Help your children engage with their senses because it will give them the chance to learn and grow. To feel and to get to know the world is probably the best thing you can give them.
If you find this topic interesting and wish to learn more, subscribe to our newsletter down below so we can keep you posted whenever a new post comes out or a new printable is available.
Sources
Butcher, K. (2016). Cognitive development and sensory play.
Coulthard, H. (2017). Play with your food! Sensory play is associated with tasting of fruits and vegetables in preschool children. 
Wang, S. (2012). Play, stress, and the learning brain.
Yogman, M. (2018). The power of play: a pediatric role in enhancing development in young children.
---