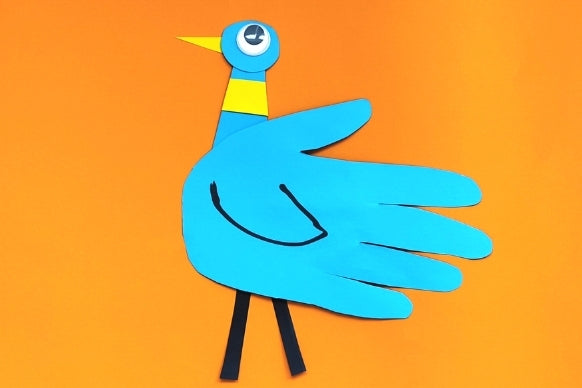 Is there a better way to preserve your kids' hands forever than making some unique handprint art?
Today we are making a pigeon inspired by the Mo Willems pigeon series of books. We love those easy yet fun projects that are suitable for toddlers and preschoolers. They also make a great keepsake for parents and grandparents 
Let's start and see how to make this craft with your kids.
You will need:
Coloured paper (blue, yellow and black)
Black marker
Googly eye
Scissors
Glue
Taking a handprint
Place your child's hand on top of the blue paper and trace it. Then cut it out with scissors.
Cut, cut, cut
Cut out the long rectangle/triangle to make the neck. Also cut out a 1.5'' circle for the head, yellow rectangle and a small yellow triangle. Prepare a googly eye and two black narrow rectangles for the legs.
Glue those peaces
Take the rectangle/triangle and glue it under the wrist side of the hand to form the neck.
Then take the circle and glue it on top of the neck.
Small yellow triangle glue on the left side of the circle to make the beak.
Take the googly eye and glue it on the head.
Yellow rectangle glue on the neck just below the head. 
take the black marker and draw the wing
glue the legs to the bottom of the handprint
Because of the simplicity of this activity it is great for young children. It will also help them improve their fine motor skills.
We would love to see your crafts. Send them to us f you make them :)
If you find this post interesting, educational and fun, you are more than welcome to subscribe to our newsletter down below so we can keep you posted whenever a new post comes out or a new printable is available.
---