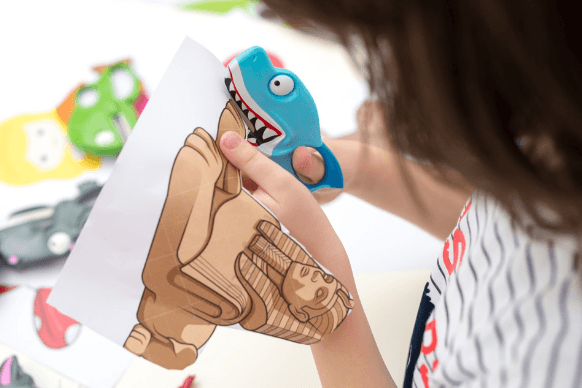 What Are and How to Develop Intrinsic Hand Muscles, Bilateral Skills and Scissor Skills?
Intrinsic Hand Muscles
As promised, today we'll cover the last three of the most important fine motor skills. The Intrinsic hand muscle development, bilateral hand skills and scissor skills.
Intrinsic hand muscle development

is the ability to perform small movements with the hand, where the tip of the thumb, index finger, and middle finger touch.

Activities that support intrinsic hand muscle development:
Wrap a rubber band around the fingers

and spread them apart and together against the resistance.

Cats cradle
Raise and wiggle the thumb

and each finger in turn (Where is "Thumbkin" song)

Hide pennies or small objects in the palm

. Move to fingertips without dropping them or using the other hand to help. Now move them back into the palm.

Pick up small objects

, one at a time, and curl them into the palm. When the hand is full, drop the objects, one at a time, into a narrow jar.

Unwrapping

tight candy wrappers, cereal boxes, milk cartons
Bilateral hand skills
Are skills that allow the coordination of both hands at the same time.
Activities for developing bilateral hand skills:
Ripping paper to make a collage or paper mache 

Catch bubbles by trying to trap them between both hands 

Lacing cards, bead/pasta stringing 
Drawing on a vertical surface using both hands. e.g. drawing a heart or a Christmas tree 

Hitting at the balloon with both hands on a baseball bat, to keep the balloon afloat
Scissor skills
By the age of 4 hands are expected to be developmentally ready for correct grasp. Scissor skills are also a great tool for teaching hand strength and hand-eye coordination. 
When two sides of the body (left and right) are used at the same time while each hand performs a different task the skill that is being developed is bilateral coordination. The child holds the paper with one hand and moves it while the other hand is opening and closing the scissors.
Eye-hand coordination is also one of the skills that cutting with scissors helps with. While children are using both hands to hold and cut the paper, they are simultaneously tracking the cutting line with their eyes.
A child should use kids' scissors so he/she doesn't have a problem holding the scissors correctly. Developing these skills will help with pencil manipulation and writing. 
Activities for developing good scissor skills:
Cutting resistive materials

such as playing cards, plastic straws, old credit cards 

Making confetti

by cutting strips of paper 

Cutting a fringe

on the edge of construction paper 

Once grasp and making single snips is mastered,

cut through broader strips of construction or card stock paper 

Gradually introduce

cutting on straight lines of increasing length

, making sure that the non-dominant hand moves along the paper as the line gets longer 

Once straight line cutting has been mastered

introduce curves

, eventually increasing the length of the curve to a complete circle. 

Cutting angles

, zigzag lines
(Originally compiled by Loubaina Buxamusa M.Ed. OTR/L Occupational Therapist)
Now you know exactly why the palmar arches, wrist stability, the skilled side of the hand, intrinsic hand muscle development, bilateral hand skills and scissor skills are so important. 
We've given you ideas on how to practice those skills with your child and all you have to do now is to follow us for more helpful ideas and practice with your child. 
After all, practice does make perfect. :)
In our next blog post, we will be covering more thoroughly the topic of child fine motor skills development while using scissors. 
Which games do you play with your children that are good for fine motor skills development?
If you find this post interesting, educational and fun, you are more than welcome to subscribe to our newsletter so we can keep you posted whenever a new post comes out or a new printable is available.
---